Etnisch profileren – niet leuk, maar logisch
Etnisch profileren is voor het object nooit leuk, maar doordat er veel teveel ophef over bestaat, ontgaat mensen de voordelen en inherente logica.

Het zal veel mensen niet fijn in de oren klinken, maar etnisch profileren is in de eerste plaats een kwestie van omstandigheden. OMSTANDIGHEDEN, ja? Wie het meest opvalt, of in een categorie valt waar vaker moeilijkheden mee zijn wordt vaker gecontroleerd. Als dat niet gebeurt is dat een extra risicofactor voor iedereen, of een extra irritatie.
Òf iedereen wordt dan plotsklaps gecontroleerd: dan krijg je heel terecht gekanker dat dat bij veel van de gecontroleerden herkenbaar niet nodig was, òf niemand wordt meer gecontroleerd en dat komt de veiligheid niet ten goede. Wie zijn veiligheid graag opoffert aan zijn politiek correcte ego is een ondemocratische drammer, want het is ook de veiligheid van andere mensen die wordt opgeofferd aan zijn eigen ego.
Om even terug te komen op die omstandigheden: denkt u werkelijk dat premier Rutte bij aankomst op Schiphol uitgebreid door de douane wordt uitgekleed in het kader van gelijkberechtiging? Natuurlijk niet. Ministers? Vast niet. Barack Obama en zijn familie? Het zal toch niet???
Ander voorbeeld, zelfde principe: als je in corrupte landen op een vliegveld aankomt is je westerse paspoort of je blanke kop maar al te vaak een goede reden je uitgebreid lastig te vallen. Omdat men je niet vertrouwt? Best mogelijk, maar het gaat hen dan eigenlijk maar om één ding: laten we het "baksjiesj" noemen. Dat neemt niet weg dat de reden dat je er wordt uitgehaald etnische profilering is. Maar je hoort er nooit iemand over.
In het verlengde daarvan; waarom komen hordes asielmigranten deze kant op? Niet vanwege het klimaat en onze prettige zomers. Maar omdat bij de witte mensen (blanken zijn minder meelevend, schijnt het) de hand op houden aardig wat centjes kan opleveren.
Dat alles in overweging nemend is onderstaande een zaak die per direct out of court moet worden gegooid. Die geschifte advocate Zegveld zal wel weer geld nodig hebben, of zo?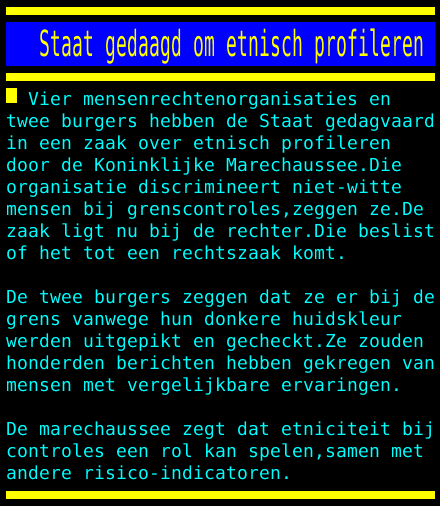 Hier wordt namelijk de verkeerde vraag gesteld, en appels met peren vergeleken. De echte vraag is of men uit een vliegtuig met alleen zwarte mensen iedereen controleert, dan wel alleen de reizigers in djellaba, en de zakelijk geklede mensen relatief eenvoudig laat passeren?
Maar déze mensen klagen dat ze er werden uitgepikt omdat ze opvielen. Dat dat ook de essentie van controleren is wil er vast niet in, maar toch is het zo.
Ooit moest ik controleren of een deel van de mensen die ergens binnen kwamen er ook hoorden, maar ik kende geen van die mensen. Dus zette ik net om de hoek van de ingang een tafel neer in het normale looppad. Wie daar tegen aan klapte hoorde er thuis, en mocht verder ongestoord door. Wie rustig kijkend binnenkwam en moeiteloos de tafel ontweek, had een tweedegraads kruisverhoor gewonnen.
Geen reden om te klagen. Tenzij je tegen veiligheid bent, natuurlijk.
---
Meer over etnisch profileren vindt u op Veren of Lood hier. We krijgen er geen genoeg van hetzelfde liedje vaker te zingen.